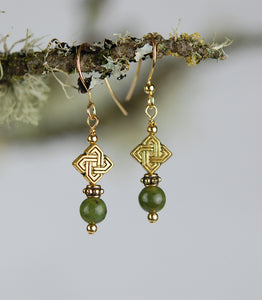 Gold Square Celtic Knot with Connemara Marble
6mm Connemara Marble from Ireland with square Celtic Knot. Earrings are finished on gold-tone ear wires, pendants come with 18" gold-plated chain. Comes with meaning of the Celtic symbol and history of Connemara Marble.
Connemara Marble
The Ancients believed Connemara Marble brings the wearer serenity, deep peacefulness and connection to ancient Ireland.
Meaning of the Celtic Knot

All Celtic knots, whether square, diamond, triangle or round, symbolize "no beginning, no end... infinity," the intertwining of this world and the "other" or spiritual world, the continuity of life paths, the mingling of relationships, and binding together of all. Read more...