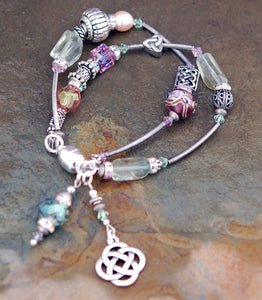 Cliodna Double-strand Green Amethyst Bracelet
Chunky Green Amethyst gemstones with shades of lavender and purple crystals with metal details. Double stranded with magnetic clasp and finished with a Celtic knot drop. Comes boxed with story card about Cliodna, Celtic Goddess of the Sea and Deep Spiritual Beauty, power of the Amethyst gemstone and meaning of the Celtic symbols. Your choice of magnetic or lobster claw and adjustable chain.
Amethyst
The Ancients believed Amethyst to be the "Stone of Spirituality" increasing nobility, spiritual awareness and strength. It aids in healing, renewal, and deep peacefulness.