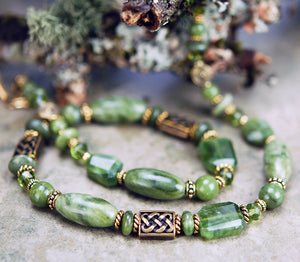 Connemara Marble and Vansunite Necklace
Our Connemara Marble, beloved by the Irish for centuries, comes directly from the west coast of Ireland. Here we combined Connemara with randomly faceted mossy green gemstones of Vansunite. Three rectangle Celtic knot beads with finishes in either antique gold or antique silver add to the ancient look and feel of this our newest Connemara Marble Collection.
Wearable at different lengths as the chain and lobster claw clasp is adjustable. Comes boxed with story card about the meaning of the Celtic Knot and history of Connemara Marble.
 About Connemara Marble
Beloved by the Irish people for centuries, Connemara Marble dates back some 600 million years to the preCambrian era. Steeped in myth and mystery and found only in the twelve Connemara mountains in the West of Ireland, this rich mossy green marble has long been considered one of Ireland's greatest national treasures.
Stone defines Ireland's sacred spaces, and it is in the permanence of stone that fragments of the Irish past are recorded. Even before the Celts arrived in Ireland, Neolithic (New Stone Age) peoples were skilled in stonework. Over the ages, Irish artisans have celebrated their history and faith, both Pagan and Christian, by working Connemara Marble into artwork ranging from great monuments to small adornments. Read more...