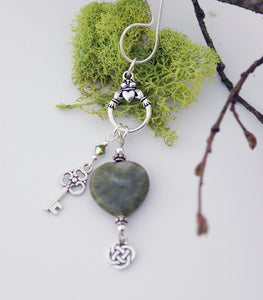 Connemara Marble Heart Pendant with Claddagh
Heart shaped heart shaped Connemara Marble from Ireland with key and bicone crystal on a Claddagh circle and round Celtic knot. 18" silver-tone snake chain. Comes with meaning of the Celtic symbol and History of Connemara.
Connemara Marble
The Ancients believed Connemara Marble brings the wearer serenity, deep peacefulness and connection to ancient Ireland.
About the Claddagh
The story of the Claddagh begins in the early 16th century in the village of Claddagh on the west coast of Ireland with a man named Richard Joyce. Soon to be wed, Joyce and his fishing boat capsized off the coast of Ireland, he was rescued by Spanish pirates and promptly sold into slavery. Forced to leave behind Ireland and the woman he loved, Richard was taken to a faraway country and sold to a goldsmith who taught him the craft of jewelry goldsmithing. Meanwhile his beloved, broken hearted and not knowing what happened Richard or if she would ever see him again, waited patiently for his return. Read more...
 About the Celtic Knot
All Celtic knots, whether square, diamond, triangle or round, symbolize "no beginning, no end... infinity," the intertwining of this world and the "other" or spiritual world, the continuity of life paths, the mingling of relationships, and the binding together of all. Read more...