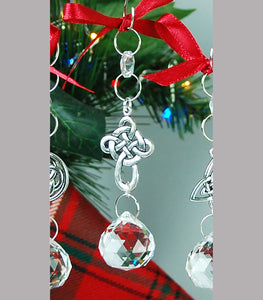 Crystal Globe with Celtic Cross Knot Christmas Ornament
Add a little Celtic fire to your holiday decor with our sparkling 10mm crystal octagon coin, silver-tone Celtic Cross Knot and faceted crystal 20mm ball drop. Beautiful!
• High-quality crystal globe and octagon coin details with Celtic symbol.
• Gift boxed with a Celtic Christmas blessing.
• Red ribbon ornament hanger.