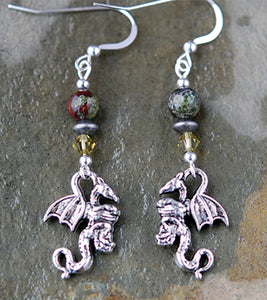 Celtic Dragon Blood Jasper with Dragon
6mm Dragon Blood Jasper with moss bi-cone crystal and Celtic dragons on sterling silver ear wires, pendants on 18" sterling silver chain.
Dragon Blood Jasper
The Ancients believed Dragon Blood Jasper increases courage, strength, healing and aids in possessing ones own brave heart. It aids in increasing energy flow spiritual through the heart.
About the Celtic Dragon
The Celtic Dragon is a mighty mystical creature that represents sovereignty, power, or a chief or leader of a clan, such as Pendragon the Celtic word meaning 'chief.' Raising power is to invoke the "Eye of the Dragon."
In ancient Ireland and Celtic Isles the whole Earth was viewed by the Druids as the body of the Dragon, and they built their sacred stone circles upon read more...