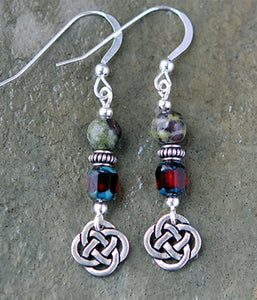 Celtic Dragon's Heart
There are no mythical creatures that command such awe and fascination as dragons. Dragons, in one form or another, have been a part of folklore since the dawn of man. They began as tales of giant evil serpents who could take to the skies and breathe fire. They were given the name 'drakon', which means 'large serpent' or 'sea serpent', and this is where we get the modern word 'dragon' from.
Dragons are deeply intertwined with Celtic traditions and practices. It was once believed that where dragons go mystic energy flows. For the Celt, though dragons were things to fear, they were also omens of a good harvest and good health. In many stories, even the blood of dragons has magical properties and powers. It is said that the Dragon Blood Jasper stone harnesses this alchemy.
With mossy green representing a dragon's shiny scales and deep red their blood, the Dragon Blood Jasper stone is one of the most beautiful stones to behold. The Ancients believe the stone encourages strength, courage, healing and aids in developing a brave heart. We are delighted to bring to you this distinctive collection of Dragon Blood Jasper with a luminous deep red octagon glass bead and round Celtic knot.
Bring out the powerful inner dragon that slumbers within us all!
• Handcrafted by an artisan in the United States
• Pendant: Sterling silver 18" chain
• Earrings: Sterling silver French ear wires
• Stone: 6mm round Dragon Blood Jasper
• Celtic Designs: Round Celtic knot
• Packaging: Every pair of earrings or pendant is carded with the legend of the Celtic dragon and power of the Dragons Blood Jasper stone.
• Gift Wrap Option: Choose gift wrapping at checkout to ensure your purchase arrives gift-ready. Add a personalized message for that extra special touch.