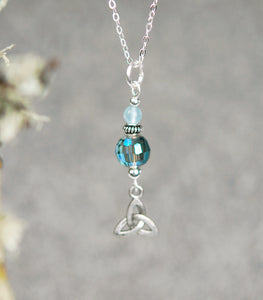 Sky Quartz with Crystal and Trinity
4mm soft blue Sky Quartz gemstone with faceted globe shaped crystal and Trinity drop. Sterling silver French ear wires, 18" sterling silver chain. Comes with meaning of the Celtic symbol and meaning of the gemstone.
About the Celtic Knot
All Celtic knots, whether square, diamond, triangle or round, symbolize "no beginning, no end... infinity," the intertwining of this world and the "other" or spiritual world, the continuity of life paths, the mingling of relationships, and the binding together of all. Read more...