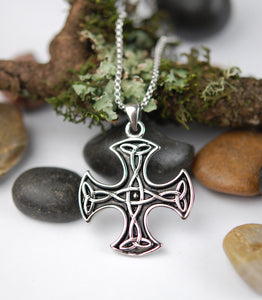 Stainless Steel Square Celtic Cross Pendant
Equal armed square Celtic knot cross in stainless steel on a 22" stainless steel box chain. Measures 1.5" square. Comes boxed with meaning of the Celtic knot.
About the Celtic Knot
All Celtic knots, whether square, diamond, triangle or round, symbolize "no beginning, no end... infinity," the intertwining of this world and the "other" or spiritual world, the continuity of read more...