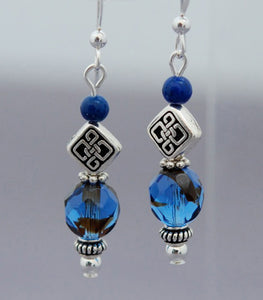 Lady of the Lake with Lapis
Legend tells of the Lady of the Lake who once lived in a castle beneath a crystal blue lake that surrounded the mystical island of Avalon. She is said to have raised Lancelot and gave Arthur the magical sword Excalibur. Moved by the lore and the striking blues that pop from the Lady of the Lake imagery, we bring to you this special collection "Lady of the Lake with Lapis Lazuli." 
Known as the Stone of Courage and believed to ward off evil and darkness, Lapis Lazuli is thought to be the stone that helps ease fear and anxiety of all things unknown. This stunning gemstone is 4mm and has been perfectly paired with our signature Celtic knot and finished with sterling silver french wire. Just like our one-of-a-kind curated collections, each stone is unique and may vary slightly.
Light and grounding--bring out your inner strength each time you put them on!
Handcrafted by an artisan in the United States

Pendant: Sterling silver 18" chain

Earrings: Sterling silver French ear wires

Gemstone: 4mm Lapis Lazuli

Celtic Knot Style: Celtic diamond knot

Packaging: Every pair of earrings or pendant is carded with the meaning of the Celtic knot and power of the gemstone.

Gift Wrap Option: Choose gift wrapping at checkout to ensure your purchase arrives gift-ready. Add a personalized message for that extra special touch.
About the Celtic Knot
All Celtic knots, whether square, diamond, triangle or round, symbolize "no beginning, no end... infinity," the intertwining of this world and the "other" or spiritual world, the continuity of life paths, the mingling of relationships, and the binding together of all. read more...