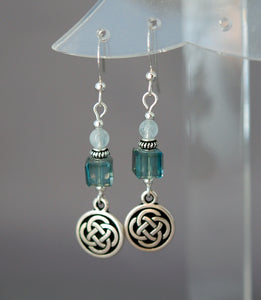 Sea Nymph's Oceans Blue
The blue hues of the Celtic Sea are the colors that dreams are made of--rich cyans, deep blues and aquamarine all in one landscape. It is hard to believe this exists in the real world and is not just a backdrop in a fantasy mermaid tale. Ancient Celtic mariners were so enthralled by this breathtaking sea that they told tales of beautiful sea nymphs who would frequent this special body of water. 
According to legends, Aquamarine gemstones actually originated in the treasure chests of mermaids. The Ancients believed Aquamarine promotes safe travel in body and spirit. It is said to give you courage, strength and helps aid in releasing anxiety and restlessness. 
Just like images of mermaids gliding through the ocean, this collection glistens and sparkles with the allure of the sea Featuring a 4mm Aquamarine gemstone, an Aquamarine crystal cube and round Celtic knot, this collection truly embodies the mystery and wonder of the deep. 
Handcrafted by an artisan in the United States

Pendant: Sterling silver 18" chain

Earrings: Sterling silver French ear wires

Celtic Symbol: Round Celtic Knot

Gemstone: 4mm Aquamarine

Includes: Every pair of earrings or pendant is carded with the meaning of the Celtic symbol and power of the stone.

Packaging Options: Choose gift wrapping at checkout to ensure your purchase arrives gift-ready. Add a personalized message for that extra special touch. 
About the Celtic Knot
All Celtic knots, whether square, diamond, triangle or round, symbolize "no beginning, no end... infinity," the intertwining of this world and the "other" or spiritual world, the continuity of life paths, the mingling of relationships, and the binding together of all. read more....