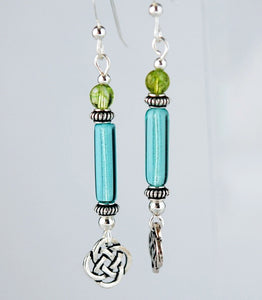 Sea Columns Celtic Earrings with Peridot
Teal columns of glass with 4mm Peridot gemstones with round Celtic knots with sterling silver ear wires.
Peridot
The Ancients believed Peridot to be the transmitter of healing powers. Helpful in clearing physical and emotional distress, getting rid of negative patterns so growth is possible.
About the Celtic Knot
All Celtic knots, whether square, diamond, triangle or round, symbolize "no beginning, no end... infinity," the intertwining of this world and the "other" or spiritual world, the continuity read more...