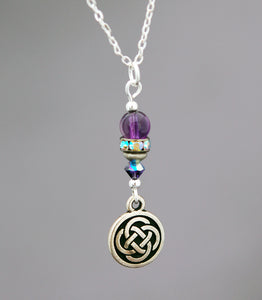 Unity in the Celtic Spirit
Celtic artwork is an emblem of Celtic pride and evokes their love of nature, symbolism and metalwork. Along with the use of a wide palette of colors, the Celts revelled in the application of geometric patterns, gemstones and animal figures that truly represent their culture. 
The Celtic knot, in all its different forms, is the most well-known artistic representation of Celtic culture and mythology. Each design holds a special meaning that when given as a gift expresses your feelings without even speaking a word.
Whether it is for love, appreciation, a special occasion or friendship, we have designed the perfect gift that pairs the traditional Celtic knot with the beauty of Amethyst and a stunning rhinestone band. 

Let your feelings be known with a piece that embodies the spirit and folklore of the Celtic people!
Handcrafted by an artisan in the United States

Pendant: Sterling silver 18" chain

Earrings: Sterling silver French ear wires

Celtic Symbol: Traditional Celtic Round Knot

Gemstone: 6mm Amethyst

Includes: Every pair of earrings or pendant is carded with the meaning of the Celtic symbol and power of the Amethyst gemstone.

Packaging Options: Choose gift wrapping at checkout  to ensure your purchase arrives gift-ready. Add a personalized message for that extra special touch.