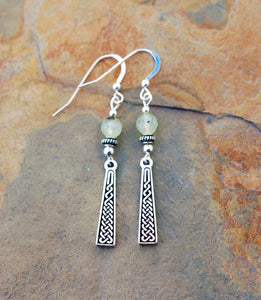 Braids of the Celts
The art of braiding has been done for thousands of years. People around the world have used the braiding technique for a variety of uses--to make ropes, in garments, to form dishware, weapons, and to even relay messages. In Celtic culture, the use of knots, spirals, patterns and braids was a richly symbolic gesture and you could find the motifs interwoven into every part of their life from building to fashion. 
A braid in your hair and how it was styled often communicated your marital status, age, rank or wealth in the community. When it comes to jewelry, the type of knot, braid or pattern on the piece might signify love, courage, friendship, or spirituality. We kept the rich history of the Celtic braid in mind when designing this collection. 
We are in love with this stunning Celtic knot wedge and we feel it pairs beautifully with one of our favorite gemstones, Prehnite. Depending on how the light strikes Prehnite, you might notice bright whites mixed with moss green and honey yellows. Prehnite is said to aid in dreaming and calmness. It encourages forgiveness, acceptance and a clear mind and heart. 
Connect with the past and live in the now with a collection that is meant to be shared!
Handcrafted by an artisan in the United States

Pendant: Sterling silver 18" chain

Earrings: Sterling silver French ear wires

Celtic Symbol: Celtic braid

Gemstone: 6mm Prehnite

Includes: Every pair of earrings or pendant is carded with the meaning of the Celtic symbol and power of the stone.

Packaging Options: Choose gift wrapping at checkout  to ensure your purchase arrives gift-ready. Add a personalized message for that extra special touch.