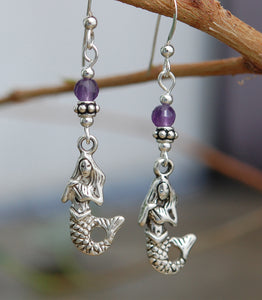 Celtic Mermaid with Amethyst Earrings
Celtic mermaids with 4mm Amethyst gemstones finished on sterling silver ear wires.
About the Celtic Mermaid
Merrow (from Gaelic murúch) is Scottish and Irish Gaelic for mermaid. The Celtic bards told ancient stories of these magical creatures singing to the Gaels from Iberia as they made their sea voyage to Ireland. Associated with foretelling or causing disasters at sea read more...
Amethyst
The Ancients believed Amethyst to be the "Stone of Spirituality" increasing nobility, spiritual awareness and strength. It aids in healing, renewal, and deep peacefulness.