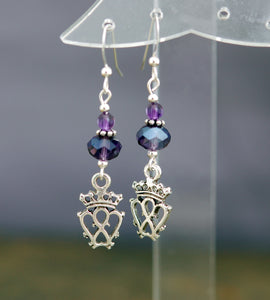 Amethyst with Scottish Luckenbooth
Antique silver tone Scottish Luckenbooth with 8mm purple crystal beads topped with 4mm Amethyst gemstones. Earrings finished on sterling silver ear wires, Pendant on 18" sterling silver chain.
About the Scottish Luckenbooth
The Luckenbooth was so named because it was sold from "locked booths" on the Royal Mile adjacent to St. Giles Cathedral in Edinburgh, Scotland in the early 1700s.
Traditionally fashioned into a brooch, the Luckenbooth was exchanged between lovers on betrothal, was pinned on the shawls of newborn babies to protect them from read more...
Amethyst
The Ancients believed Amethyst to be the "Stone of Spirituality" increasing nobility, spiritual awareness and strength. It aids in healing, renewal, and deep peacefulness.