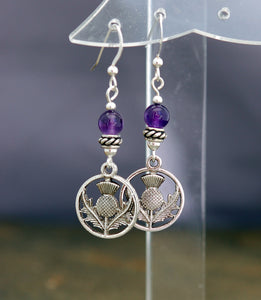 Amethyst with Scottish Thistle
6mm Amethyst gemstones in the soft purple of the beloved Scottish Thistle, the National Flower of Scotland drop and rope details in antique silver tones. Earrings finished on sterling silver ear wires, 18" sterling silver chain.
About the Scottish Thistle
Both the national emblem and deemed the Flower of Scotland, the Scottish Thistle has long been beloved by the Scottish people. In the language of flowers the thistle is an ancient Celtic symbol of nobility of character as well as of birth.
Steeped in history and legend, in the oral tradition the story is told that one simple Scottish Thistle is said to have saved read more...
Amethyst
The Ancients believed Amethyst to be the "Stone of Spirituality" increasing nobility, spiritual awareness and strength. It aids in healing, renewal, and deep peacefulness.