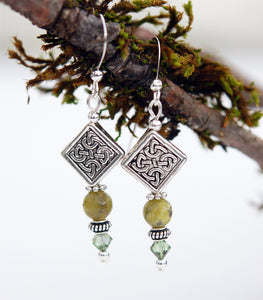 Diamond Celtic Knot with Connemara Marble
6mm Connemara marble with Celtic knot and moss crystal on sterling silver French ear wires. Comes carded with story of the Celtic knot and history of Connemara Marble.
About Connemara Marble
Beloved by the Irish people for centuries, Connemara Marble dates back some 600 million years to the pre-Cambrian era. Steeped in myth and mystery and found only in the twelve Connemara mountains in the West of Ireland, this mossy green marble has long been considered read more...
About the Celtic Knot
All Celtic knots, whether square, diamond, triangle or round, symbolize "no beginning, no end... infinity," the intertwining of this world and the "other" or spiritual world, the continuity of life paths, the mingling of relationships, and the binding read more...