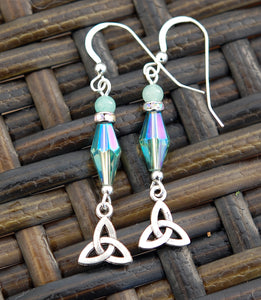 Crystal Bicone with Amazonite with Trinity
Elongated bicone columns with delicate rhinestone details and 4mm Amazonite gemstone earrings finished with sterling silver French ear wires.
Amazonite
The Ancients believed Amazonite aids in truth finding. Helps develop integrity. Enhances love and soothes emotional distress and tension, and reduces ones stress.
About the Celtic Knot
All Celtic knots, whether square, diamond, triangle or round, symbolize "no beginning, no end... infinity," the intertwining of this world and the "other" or spiritual world, the continuity more...