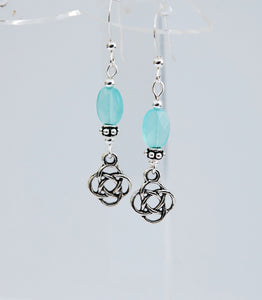 Celtic Knot with Soft Teal Chalcedony
Oval faceted soft teal Chalcedony gemstones with round Celtic knot drops on sterling silver French ear wires and 18" sterling silver chain.
Chalcedony
The Ancients believed Chalcedony to be the "Dream Stone" with gentle energy that fosters balance and healing. It protects against bad dreams and encourages positive dreams. It protects against evil and aids in peacefulness and increases a sense of wellbeing.
About the Celtic Knot
All Celtic knots, whether square, diamond, triangle or round, symbolize "no beginning, no end... infinity," the intertwining of this world and the "other" or spiritual world, the continuity of life paths, the mingling of relationships, and the binding read more...