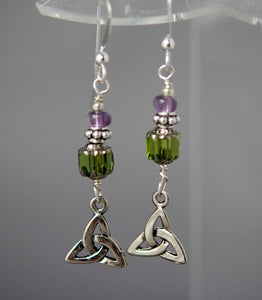 Rolling Hills of the Celtic Isles
Many songs have been sung and prose written about the epic Rolling Hills of the Celtic Isles. With Ireland's shamrock green as far as the eye can see and the purple heathered hillsides of Scotland, each with breathtaking cathedrals hugged by climbing ivy and moss, it is no surprise that the countryside of the Celtic Isles has inspired many prolific creatives.  
We bring to you our own ode to the Celtic countryside with this "Rolling Hills of the Celtic Isles" collection. A cathedral cut mossy green bead is complemented by an amethyst gemstone said to aid in healing, renewal and deep peacefulness. We tie it all beautifully together with a sacred Celtic Trinity knot. Just like our one-of-a-kind curated collections, each stone is unique and may vary slightly.
Whisk away to the Celtic Isles with this stunning collection inspired by nature!
Handcrafted by an artisan in the United States

Pendant: Sterling silver 18" chain

Earrings: Sterling silver French ear wires

Gemstone: 4mm Amethyst

Celtic Knot Style: Trinity knot

Packaging: Every pair of earrings or pendant is carded with the meaning of the Celtic Trinity knot and power of the gemstone.

Gift Wrap Option: Choose gift wrapping at checkout to ensure your purchase arrives gift-ready. Add a personalized message for that extra special touch.
About the Celtic Knot
All Celtic knots, whether square, diamond, triangle or round, symbolize "no beginning, no end... infinity," the intertwining of this world and the "other" or spiritual world, the continuity read more...
Amethyst
The Ancients believed Amethyst to be the "Stone of Spirituality" increasing nobility, spiritual awareness and strength. It aids in healing, renewal, and deep peacefulness.